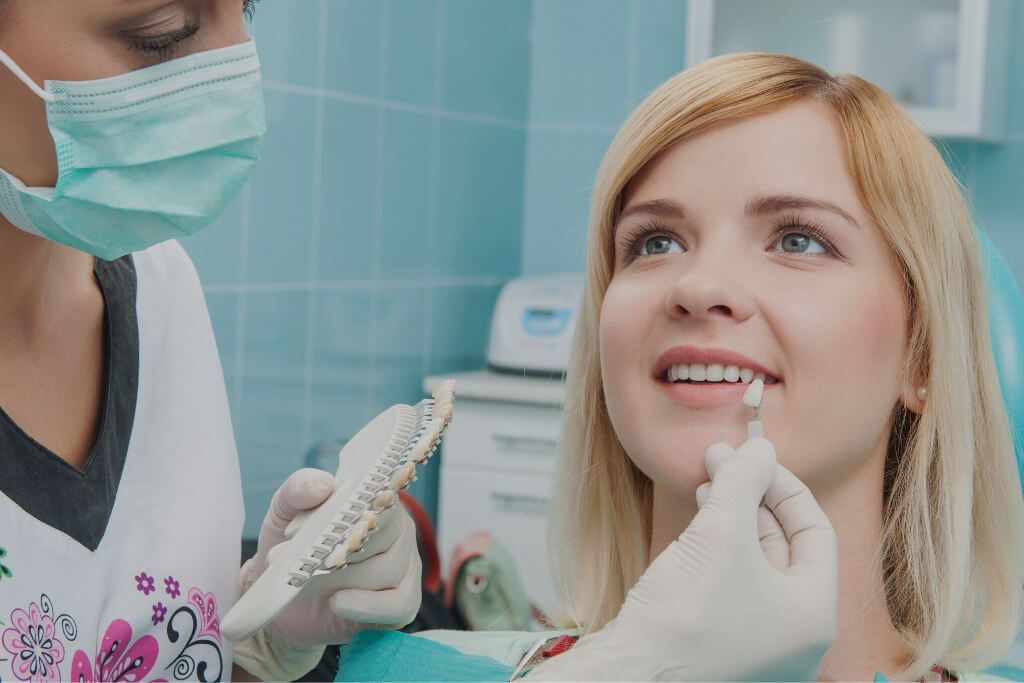 Porcelain Veneers
Porcelain veneers are thin pieces of porcelain or composite used to improve and recreate the natural appearance of teeth. Unlike a dental crown, veneers are cemented over the surface of your teeth to correct uneven tooth alignment, worn tooth enamel, tooth discoloration, or chips and cracks.
There are two types of veneers; one that is fabricated in a dental laboratory and a resin-based composite veneer which can be performed in the office by the dentist. We will help you determine which option is best for you and your unique circumstances.  With proper care and treatment, veneers are durable and long-lasting.
Reasons For Veneers
✱

Correct multiple cosmetic issues

.
✱

Close gaps and spaces.

✱

Improve the overall appearance of the tooth.

✱

Fix alignment issues.

✱

Change discoloration.

✱

Cover chipped or cracked teeth.
What Does the Porcelain Veneers Procedure Involve?

➊
Recommended for teeth that are discolored, damaged, or broken.

➋
Preparation of tooth's enamel by removing the surface of the tooth structure.

➌
Once the custom-made veneer is fabricated, it is cemented to the prepared tooth.

➍
The appearance of the veneer restores the natural beauty of the tooth.
Are Crowns Better Than Veneers?
Crowns and veneers are two different procedures, but both can be used to cosmetically enhance your smile. We will evaluate your oral condition and your specific treatment needs to determine if crowns or veneers are most suitable for you.
Can A Regular Dentist Do Veneers?
Yes. A general dentist can perform the veneer procedure.
Can Veneers Fall Off?
Veneers do not normally just fall off. Once your veneer is cemented to the surface of your natural tooth, it is important that you do not use those teeth as tools (opening bags or packaging) and do not bite directly into certain foods as the veneers can come off under such forces.
How Long Do Veneers Last?
It is especially important that you maintain your preventive hygiene schedule when you have cosmetic dentistry. With proper care, and regular preventive care, porcelain veneers can last from 10 to 25 years.
Visit Us Today For A Healthier, Better-Looking Smile
Smile more often and with total confidence! Contact us about teeth whitening today.